About Eagle Aluminum Cast Products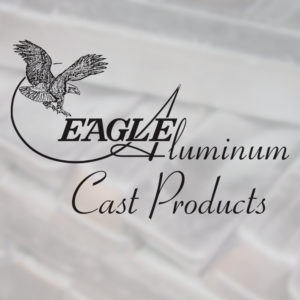 Based in Muskegon, Michigan, Eagle Aluminum Cast Products, Inc. is an aluminum casting foundry that offers more than just quality aluminum sand and permanent mold castings. We have technology, experience, and the capability to take your project from concept to completion–including pattern making, casting, and finishing.
Our quality machine shop allows us the opportunity to provide you with a machined and assembled casting faster than the competition. Our trusted subcontractors can provide additional finishing operations to your parts. A full complement of options are offered, including anodizing, burnishing, polishing, and painting.
Eagle Aluminum Cast Products, Inc. offers quality aluminum sand and permanent mold castings. The permanent mold process offers a good surface finish and reduced machining at a lower cost. Permanent mold castings from 1 pound to 50 pounds and a 55″ diameter are currently produced.
Our sand molding facility offers mold capacity up to 30″ x 80″. We can work with our engineers to determine which combination is best suited for your application. We also produce patterns and mold a unique line of paint support castings for the automotive industry.
Read more about Eagle Aluminum Cast Products in the pages at the left. For more information or literature detailing our operations, please contact our sales department. We are eager to help you solve your aluminum casting problems.
For videos about other Eagle Group companies, please visit the Eagle Group Videos page.