Getting Started
Working with Eagle Aluminum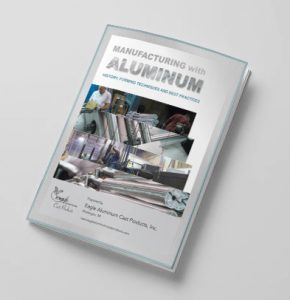 Eagle Aluminum is always striving to provide excellent customer service in all that we do.  This includes determining if our capabilities are the correct processes for your casting needs.  We work very closely with not only with you but also our approved suppliers to ensure that every question is answered before committing to quote your request.  If we do not have the answer here in house, EACP will work with our resources at the other companies of The Eagle Group.
If you're interested in learning more about manufacturing and casting with aluminum, check out our free ebook, Manufacturing with Aluminum: History, Forming Techniques and Best Practices

TOLERANCES, CAPABILITIES AND ALLOYS POURED
Typical Greensand Casting Tolerances Held: +/- .030″ to .063″
Typical Surface Finish: >350 RMS
Casting Characteristics:
Wall Thickness: >.250″
Typical Weight Range: 10 lbs to 100 lbs
Largest Pattern Dimensions: 33″ x 80″
Typical Production Quantity: 50-1,000 per run
For a more detailed breakdown of tolerances and capabilities, download our Quick Reference Guide below:

Available Alloys
Currently EACP utilizes A356 and 319 aluminum alloy to produce all of our castings.  These two alloys are the most popular and provide options for your casting needs.  By reducing the number of different alloys poured, EACP also reduces contamination during changeovers as well as saves our customers money is set up charges associated with changing alloys.
Available Finishes
Greensand Casting Surfaces
We hold to the Aluminum Association standard of > 350 RMS finish.  We use the finest grain Olivine sand available to create the best finish possible on our green sand castings.
Additional Finishes and Coatings
Prior to application of coatings, EACP can prepare the casting surface using stainless steel shot.  This provides an even surface more accommodating to all types of coatings.  EACP has a wide selection of approved suppliers that can meet any of your coating needs including powder coat, paint and anodize.
Size & Weight Limitations
Our greensand process is capable of running larger, heavier castings with our largest flask size being 33″ X 80″.
Terms & Conditions
These terms and conditions supersede any other unless agreed to in writing:
1. Quotations must be accepted and releases scheduled to the seller within thirty (30) days from date of quotation, with additional provision that quotations are subject to any changes in metal price structure between date of quotation and date of shipment.
2. Tooling invoice payment due 30 days after sample approval. Payment terms NET 30 days unless otherwise specified by Eagle Aluminum Cast Products Inc. Shipments may be held pending receipt of delinquent payments.
3. Unless otherwise agreed to in writing, casting cost does not include metal surcharge currently in effect. Surcharges are subject to monthly
adjustment and are determined at the time of order placement. Surcharges are calculated using rough casting weight.
4. Credit will be given for castings rejected due to foundry defects. Such castings must be reported and returned to the seller within ninety (90) days after their receipt. Our liability is limited to cost of our casting including associated freight and surcharges present at the time of billing.
5. All purchased tooling is the responsibility of the owner/customer to insure.
6. All freight, dunnage, boxing/crating charges on patterns and selection of carrier are the responsibility of the purchaser.
7. Sample lead time starts after all AQP/APQP issues have been satisfied. Tooling price and lead time assumes customer can provide required CAD models.
8. Material Certifications are available upon request for an added cost. Cost of certifications depends on type requested.
9. No order shall be changed without liability unless notice of revision is made and accepted in writing before work is in process. Purchaser will be liable for all production prior to change being made.
10. Cancelled orders may be subject to cancellation charges if production has already been started.
11. Eagle Aluminum Cast Products Inc traditionally makes up to 10% over the order quantity to account for in-process loss. All acceptable castings will ship so the possibility of over shipments up to 10% of order quantity must be allowed.
12. Special production service to secure unusual deliveries not in accordance with original delivery may incur additional charges.
13. Purchaser shall supply pattern and core box equipment in proper condition to produce the quantity and quality of castings agreed upon and are subject to dimensional analysis and adjustments. All repairs and changes necessary to place equipment in proper condition shall be the purchaser's obligation.
14. The foundry shall not be liable in any manner for loss or damage by reason of the manufacture and sale to the purchaser of any patented device or parts thereof made in accordance with drawings, designs, models or patterns furnished by the purchaser.
15. Seller is not responsible for variations existing between blueprints and pattern and core box equipment supplied by purchaser. If requested by purchaser, seller will check patterns and core box equipment with blueprints at purchaser's expense unless otherwise agreed to by the seller.
16. Unless otherwise negotiated, castings will be produced to Aluminum Association Standards for Sand and Permanent Mold Castings.
17. Minimum release value is determined by minimum quantity request.
18. Unless agreed to in writing, shipping box / pallet billed separately.
19. Our books and records, financial or otherwise, are the property of Eagle Aluminum Cast Products Inc and are not available for public inspection.
20. Unless otherwise agreed in writing, full order amounts must be accepted within 2 months following process lead time. e.g. If the process takes 5 weeks for order completion, then all parts must be accepted in 5 weeks + 2 months from order date to avoid inventory at Eagle.
21. INCOTERMS for freight for domestic shipments are CAP – Muskegon, MI and ship collect. For international shipments INCOTERMS are EXW – Muskegon, MI and ship collect.
Request a Quote from Eagle Aluminum