Jobs at Eagle Aluminum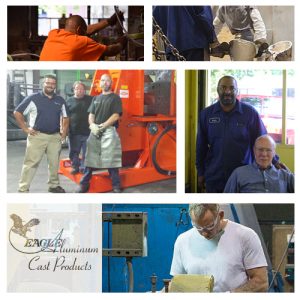 Eagle Aluminum Cast Products, Inc. has several openings for jobs in Muskegon, Michigan.
If you're looking for Muskegon, MI jobs, now is your chance to join a growing company with a solid financial base. Not only are we a world-class aluminum casting foundry, we are also a tight-knit company with a family-like atmosphere. Eagle Aluminum can provide you with steady work, inclusive company culture, great benefits and ample opportunities for growth.
To apply for a job at Eagle Aluminum, contact Workbox Staffing and let them know you're interested in working at Eagle Aluminum Cast Products.
Open Positions
We are currently hiring for General Foundry Labor

Work will take place on-site at either of our two Muskegon facilities:
Greensand casting foundry in downtown Muskegon

Permanent molding & tool making facility at 2134 Northwoods Dr.
General Foundry Laborer Job Information
Duties
Grinding, pouring, molding, sorting and inspection

Additional general labor as needed
Period
Full time
Compensation and benefits*
Competitive pay (hourly)

Additional benefits
401K

Health insurance, including dental & vision

Profit sharing
*Note that these benefits are only available upon successful completion of a probationary period.
Requirements:

No specific education or experience is required
Physical requirements include, but are not limited to:
Ability to stand for long periods of time

Ability to lift 50 lbs.

Exposure to extreme heat conditions
Curious about what we do at Eagle Aluminum? Read more on our Services page.