PERMANENT MOLD DIVISION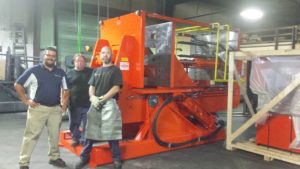 Continuous Improvement – Making it Happen!
Eagle Aluminum Permanent Mold Division is happy to announce the latest addition to our fleet of tilt presses, a new 6H Hall.  Our goals are to continuously improve our processes, service and quality – this new press allows us to accomplish all three.  Eagle Aluminum will now be able to handle larger permanent molds that make larger, heavier castings.  We hope to see your parts running on our new press soon, call us today to become a part of our company's growth.  Thank you to the ownership for investing in our future and to Kurt Fifield (GM) for MAKING IT HAPPEN!